A Checklist for Your Last Month of Pregnancy
When you reach the last month of your pregnancy, you're going to have a lot on your mind. Not only are you running around trying to get everything prepared, you're probably going to be over-thinking everything, getting anxious, and creating a lot of unnecessary stress. Take it easy! Your baby is almost here and you've officially reached the final countdown. To help things run smoothly, we've put together the ultimate checklist for your last month of pregnancy.

Things to do For Yourself
We've decided to start out this checklist with a little self-love because you deserve it. You're nearing the end of your pregnancy and, if it's your first, you're about to lose any alone time you once had. If you already have a child (or children) you're going to have even more on your plate. So, make time to enjoy your alone time this upcoming month.
Sleep as often as possible… seriously; you're going to miss it.
Pamper yourself with a spa day.
Go on dates every night—it's going to be a long time until you feel up to it again.
Go see a movie in theaters.
Relish in your alone time and do whatever you want.
Clean and organize your house. Allow us to clarify:
Nesting is a common indication that you're getting closer and closer to your due date. It happens in almost every pregnant woman as she starts to near labor. Embrace the nesting. Take advantage of the time you have now to clean and organize your house as your mind tells you to. Don't worry if it seems like it's an insane thing to organize, if it helps put you at ease then go for it. As long as you don't do anything strenuous or that would put your baby, or yourself, in danger, nesting is perfectly fine in your last month of pregnancy.
Things to do to Prepare for Baby
Now that you're all rested and relaxed, it's time to focusing on preparing for your baby. Make sure to do the following during the last month of pregnancy to make sure you're as prepared as possible.
Stick to Prenatal Visits
Sticking to your prenatal visits will help to ensure that you catch any late pregnancy issues—if they happen. Don't stress about them too much, but keeping up-to-date with your doctor's visits will make sure that if something does occur, it doesn't go unnoticed in the excitement of your final trimester.
Stay Healthy
You should continue to eat, drink, exercise, and rest just as you had been doing the past 8 months. Now is no time to stop the healthy habits you've made. Continue to eat for nutrition, get rest as needed, practice self-care, tackle stress in a healthy way, exercise, and take your prenatal vitamins. Doing so will help you continue your healthy habits post-pregnancy and set your new family up for success.
Plan Your Meals
Once there's a newborn in your house, it's going to be harder and harder to cook a well-balanced meal for yourself. While your partner might take over the cooking for a while, it will be difficult for both of you and you're going to be exhausted. Plan ahead by prepping some great Crockpot meals. There are hundreds of recipes you can make now, stick in the freezer, and then just stick them in the Crockpot when you're ready.
Get Your Car Ready
You will need a car seat to take your newborn home from the hospital—it's actually the law. Make sure you have a car seat that you are comfortable with and know how to install. There are many places that will show you how to properly install your car seat if you're unsure, so we recommend going to an approved location and getting a little instruction.
Finalize the Nursery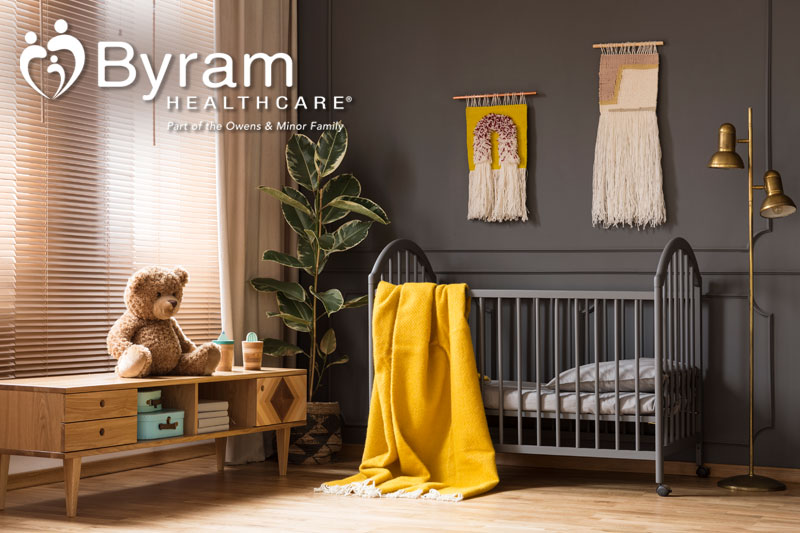 While you've probably been setting up the nursery since you learned your due date, it's time to make any finalizations. If you need to assemble the furniture, do it now. If you still want to add a few decorations or toys, go grab them. Also, make sure your changing table is up and ready for use—you're going to need it.
Pick Out Baby's 1st Outfit
Picking out your baby's 1st outfit is an exciting time. It's the outfit you're going to bring them home in from the hospital, so you'll remember it forever.
Once you've picked out outfit #1, don't forget to wash it. Whether you're using a hand-me-down that's been collecting dust or just bought something new, you'll want to wash your baby's first outfit so that it's clean, soft, and comfortable. Use a safe, chemical free detergent to ensure that you don't cause any irritation.

Confirm Your Pediatrician
If you've had your eye on a pediatrician, but haven't confirmed yet, confirm. Make sure you know who you're going to bring your baby to and set a date for your first appointment. Finding the right pediatrician is an important part of feeling like you're prepared, so don't skip this step.
Learn How to Use Baby Gear
Baby gear has gotten pretty advanced over the years; so don't feel ridiculous if you don't know how to use half of it. Take the time during your last month of pregnancy to play around with new baby gear and familiarize yourself with it. If you need to, read the manual while you still have time.
Pack Your Hospital Bag
When you go into labor, you're not going to have any time to get a bag together before you need to leave for the hospital. Pack your bag now so that it's 100% ready for when the big day comes. Don't know what to put in your hospital bag? Check out these suggestions.
Prepare for Breastfeeding
A lot of women think that you won't be able to get the hang of breastfeeding until your baby comes, but that's not true. There are many things you can do to prepare for breastfeeding. Talk to your doctor about any concerns you have or consider finding a lactation consultant that you can work with throughout your final month of pregnancy.
Get Educated on Labor
Labor is intense, but the more you're prepared, the better you'll handle it. Make a plan for what you're going to do, whether or not you want certain people in the room, and how to help ease pain when it starts.
Create Your Birth Plan
Your birth plan includes all of the tiny details revolving around how you want your birth to go. It includes whether or not you'll want pain meds during labor, who's going to cut the umbilical cord, and what to do in case of an emergency. Read more about birth plans here.
When making your birth plan, don't forget to take a tour of the hospital you're planning on delivering at. Get to know the layout so that you feel at-home when you arrive.
Mentally Prepare
Give yourself a few minutes each day to mentally prepare for the arrival of your newborn. Remember that it's going to be an adjustment and that things won't go perfectly, no matter how hard you try. Remind yourself this and go easy on yourself. Don't create unnecessary stress that's going to do nothing except wear you out. You're going to deal with a lot of poop, a lot of crying, a lot of post-delivery self-care, and very little sleep. Be mentally prepared so that you can remind yourself that you're strong enough to make it through.
Get Your Free Breast Pump!
Don't forget to talk to your insurance provider about your eligibility for a free breast pump. Take some time to do your research and find one that works for you. If you can, order it before you get to the hospital and make sure you know how to use it. For more information on finding your free breast pump, check out this great resource.
Conclusion
The month leading up to your due date is an exciting, albeit a little nerve-racking, time. Allow yourself to feel the entire range of emotions and make sure you're prepared for the final countdown. To help you prepare, don't forget that the Affordable Care Act means expectant mothers are eligible to receive an electric breast pump covered by their insurance provider! To learn more, check out our wide selection of breast pumps.
If you're in the final countdown of your pregnancy, head over to our Facebook page today and leave a comment! We love hearing about how our readers are preparing to welcome their newest bundles of joy to the world.