The Best Pregnancy and Baby Products of 2019
Having a baby is hard work. You get worn down, cranky, and at times, completely overwhelmed. Your life will change drastically, but every time you look at your newborn's smile, you'll know it's always worth it.
Our advice for new mothers is simple: be prepared. Luckily, thanks to constant innovations in products, you'll find yourself with less stress, more time, and the best for your newborn. Check out our list of the best pregnancy and baby products of 2019 to prepare for all of the good and bad surprises that will come.

Best Pregnancy Products
There are a ton of baby products on the market, but expecting mothers need some love too. With these products, you'll find yourself calm, comfortable, and prepared for your new baby to arrive.
1. Belly Bandit Anti Bra
If you're currently pregnant, you understand the struggle of finding a good bra. Your old ones don't fit and your breasts are changing too fast to keep buying new ones.
Thankfully, Belly Bandit has invented an Anti Bra. It's made out of thin, breathable material that feels soft and comfortable on your body. It doesn't leave any visible lines on your clothing and is adaptable for wear as your breasts change size. There are no wires, and the straps are as comfortable as your favorite sports bra. Find yours here.
2. Light and Sound Machine
While these are great for newborns, they will do wonders for an expectant mother's sleep. It's hard enough to find a comfortable position and sometimes it's not enough. Your mind races and you find yourself wide-awake at 3:00am.
Instead, purchase your newborns light and sound machine while you're pregnant and try it out for yourself. It has a tendency to pull anyone into a deep and relaxing slumber.
When your newborn comes, use it for them while they're napping during the day. It'll help you avoid having to quietly sneak around and drowns out any loud, unexpected noises. The added nightlight works to soothe your baby into sleep and keep them feeling comforted.
3. Basq Stretch Mark Butter
Your body will change a lot during pregnancy. As your baby grows, so does your belly, which leads to unsatisfactory stretch marks. To combat them as best as possible, check out Basq Stretch Mark Butter. It's full of pregnancy-safe ingredients and has been known to be more effective than other products on the market.
4. Moonlight Pregnancy Pillows
Sleeping when you're pregnant is hard. The right position is always just a centimeter away. With a Moonlight Pregnancy Pillow, you'll find comfort faster than ever. The comfortable shape helps to support your body and makes switching positions a breeze. It's big, but it makes all the difference. When baby comes, it doubles as a nursing pillow.

Best Baby Products
Every year, new baby products come out that make life easier. Thanks to the advancements on the market, new moms now have a plethora of products to help manage life with a newborn. This year, we've put together our favorites. Check them out below.
1. The Baby Cook
With the rise of the Internet and the growing fear of processed foods, more mothers are making their own baby food. Unfortunately, it's not always as easy as it seems. That all changes with The Baby Cook! It's an all-in-one baby food maker that runs independently, so you won't have to make any trade-offs.
It's a great timesaving tool that allows mothers to prepare healthy, unprocessed baby food.
2. Wash. It. Later.
Life happens fast, especially with a newborn. You're going to experience a few stinky situations while you're out and about, leaving you holding your breath and looking for somewhere to put dirty clothes.
When you experience one of these poop disasters, Wash. It. Later. is there to save you. They are single use bags accompanied by a cleaning pod and all you need to do is add a bit of water, poop-covered clothes, and the pod and seal it until you're home. They're helpful to have on hand… just in case.
3. Dwypeze
This product is another great on-the-go solution that easily replaces your diaper bag. Dwypeze is a small and portable, single use diaper kit that you slip into your purse instead of carrying around a full diaper bag everywhere you go.
It contains a package of baby wipes, a disposable bag, and a changing pad1, so you're always prepared.
While we don't recommend using it for every single diaper change, due to the impact of single-use products on the environment, it's a good emergency solution to have with you.
4. Munch Mitt
Teething is an uncomfortable experience for both babies and moms. It's hard to watch your bundle of joy feel any sort of pain, especially when it's associated with teething. While there are a lot of products and tips that claim to help ease your newborn's discomfort, it seems like the best relief comes from chewing on something.
Rather than leave your baby susceptible to picking up items that fall on the floor and get covered in germs, grab a Munch Mitt. It's a mitten covered with material similar to what teething rings are made out of that is easily worn on either hand. This way, your baby will safely chew on something whenever they need it. Plus, it's machine washable!

5. Collapsible Bottles
Since a lot of mothers live their lives on the go, it's important to stock up with products that help you rather than hurt you. That's why collapsible bottles are so useful.
They're easy to clean, safe for use, and extremely convenient to keep in your diaper bag or even a purse. The brand Collapse and Go is currently the most popular and sells them online. Order one, see how you like it, and then head back for more.
6. Smart Sock Baby Monitor
Sadly, Sudden Infant Death Syndrome (SIDS) is still a very real thing. It plagues the minds of new mothers and causes more than a few sleepless nights.
If you're especially anxious and want to ensure that your baby is doing well through the night, pick up a Smart Sock Baby Monitor. This innovative device is worn on your baby's foot and monitors both their heart rate and oxygen levels, similar to how they do in hospitals.
If there are any irregularities or if your baby stops breathing, an alarm will go off on your smartphone allowing you to get help before it's too late.
7. Warming Lactation Massagers
While this isn't exactly a necessity, it's a great tool to help increase your milk production and avoid uncomfortable plugged ducts. Using a combination of heat and vibrating technology, you simply massage your breast prior to feeding or pumping.
Not only does it feel great, the results are immediately noticeable. It's almost like adding a mini-spa experience to your daily nursing tasks. Check out the product offered by LaVie for the top-of-the-line experience.
8. Diaper Genies
Everyone who has ever been around a baby knows that they're poops are out of this world. How can such a small human create something that smells so bad?
Instead of simply tossing dirty diapers into a trash bin, which will inevitably lead to a smelly home, throw them into a diaper genie. A diaper genie works by sealing odors inside and avoiding any wandering smells. They come equipped with a foot pedal for hands-free use and are found here.
9. Baby Bibs
Baby bibs have been around for a while, but they're starting to get more stylish as the years pass. In 2019, one of the best baby products to have in your stockpile is a cute baby bib that will match your newborn's outfit and leave you getting compliments from everyone!
If you're on a budget, check out some great designs online and make your own. They're easy to make for both boys and girls.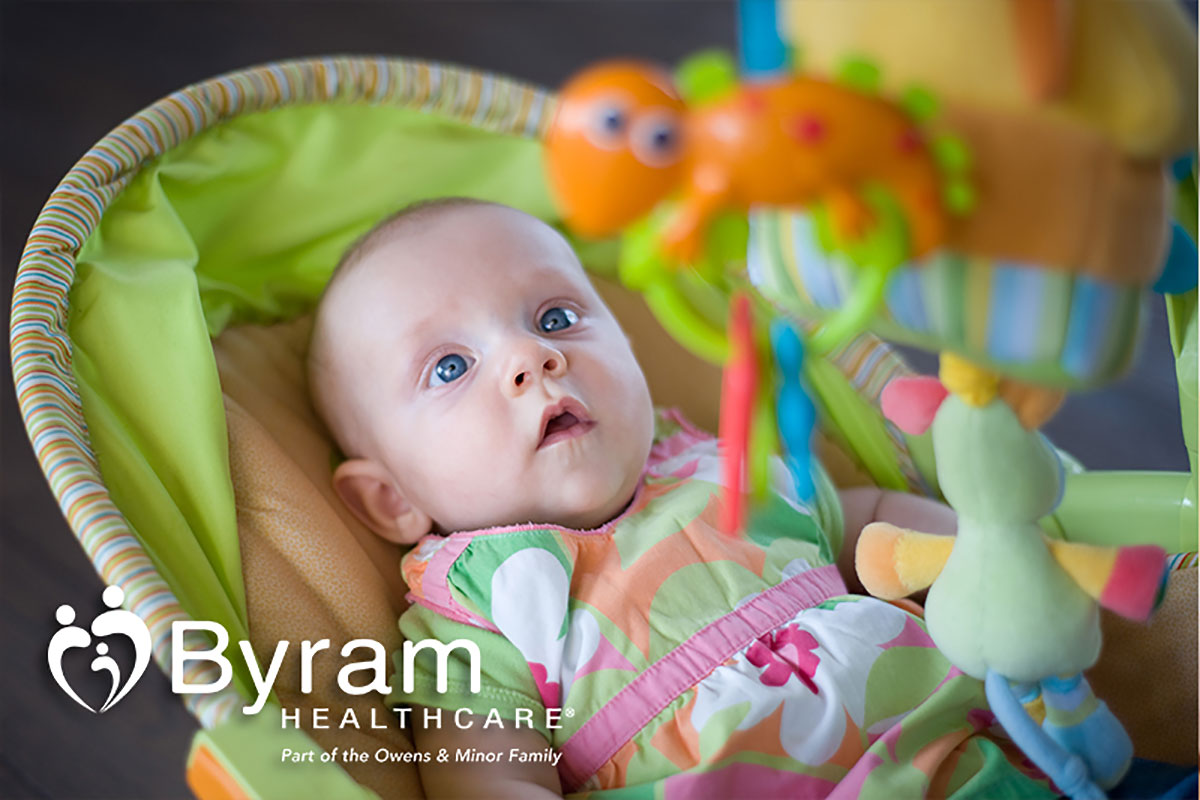 10. The Ready Rocker
Rather than spending a fortune on expensive chairs or large rocking devices, The Ready Rocker allows you to convert anything into a rocker for your baby. It's portable, compact, and achieves the same results as bulky and expensive devices.
Transform any seat, wall, or otherwise sturdy object into an instant rocker to lull your newborn to sleep. You're bound to love it as much as they do, if not more!
Conclusion
Regardless of your everyday routine, pregnancy and baby products will help enhance your experiences. Some products aim to simplify your life while others work to make you more comfortable, but they're all a great addition to your new mom status. We hope you enjoyed our list of the best pregnancy and baby products of 2019, but don't forget to add a breast pump to your list of essential items! Thanks to the Affordable Care Act, new mothers are eligible to receive an electric breast pump covered by their insurance provider. Simply head over to Byram Healthcare, shop our wide selection, and order yours today. You'll also find some great resources on all things related to pregnancy.
If you have a product you can't live without, or have tried one of the ones listed above, head over to our Facebook page today and leave a comment! We'd love to hear some reviews from our readers and see what products you love best.