18 Ways to Save Money When You Have a Baby
Having a baby is expensive. From prenatal care to delivery and from birth to adulthood, there are a lot of new costs associated with having a child. Luckily, holding your son or daughter in your arms and watching them grow with your family makes every penny worth spending.
With a new baby, whether it's your first or fifth, saving money doesn't have to mean sacrificing care and quality. Here are 18 ways to help you save money when you have a baby.
1. Shop Smarter
Shopping for baby will happen day after day, month after month, but it doesn't have to break the bank. Here are some great ways to get around the ridiculous market prices on some of your must-haves.
Buy online, but only when you have coupons or things are cheaper. Compare prices on different websites before making a purchase.
Buy at the end of the month to get the best deals.
Hunt for sales rather than accepting the first price tag you see.
Find convertible gear to use one thing for multiple purposes.
Buy secondhand instead of new.
Buy in bulk to save money over time.

2. Browse Freecycle.org
Freecycle.org is like Craigslist for moms. The site is filled with parents posting items that they no longer need, all for free! It's worth taking a look every now and then to see if there are things that you need.
3. Consider Reusable Products
You will use an immeasurable number of diapers until your baby is fully potty trained. Instead of throwing the money in the garbage, consider using reusable cloth diapers. They're not as gross as you think and you'll feel good for doing your part for the environment.
4. Ask for Samples
When you're at the hospital or your pediatrician's office, ask for free samples. They have them and if you ask, they will give them to you. It's a great way to test out products with your baby before purchasing larger sizes, save a few dollars, and get some on-the-go products.
5. Wait to Buy
Sometimes babies are stubborn. If you spend a ton of money on a brand of bottles because you're friend's baby couldn't get enough of them, you'll be pretty disappointed – and strapped for cash – if you come to find out that your baby won't take them.
The same is said for pacifiers and even diapers. Believe us, if your baby doesn't like something, they'll let you know. Wait to buy things in bulk until you know what your baby likes.
6. Avoid Hospital Add-Ons
Want a private room? Add a few thousand dollars and you're all set! Feel like catching up on some TV? Some hospitals charge you for using the television. The add-ons in hospitals are ridiculous and add up fast. Avoid raking up your bill. If you're up for it, think about having a homebirth—it will save you up to $8,000.

7. Say No to Pricey Shoes
Babies outgrow one thing faster than clothing—shoes. And let's be honest, if your baby isn't walking yet, shoes aren't functionally necessary.
When your baby does start learning to walk, they'll learn faster barefoot anyway. Unless you have some seriously good hand-me-downs or are an expert bargain shopper, wait to buy shoes until they're needed. When they are needed, buy practical and inexpensive shoes to save money.
8. Return Unwanted Gifts
If you get something you don't need, or already have, return it for extra cash or exchange it for something you need. Do it sooner rather than later to get the most for your money. Sometimes gifts have strict regulations for returns and exchanges or will only give you the current price match in credit.
9. Don't Buy Unnecessary Gear
There are so many unnecessary things that parents buy to help decorate or add miniscule increases of convenience to life. Avoid buying unnecessary gear simply for the sake of it.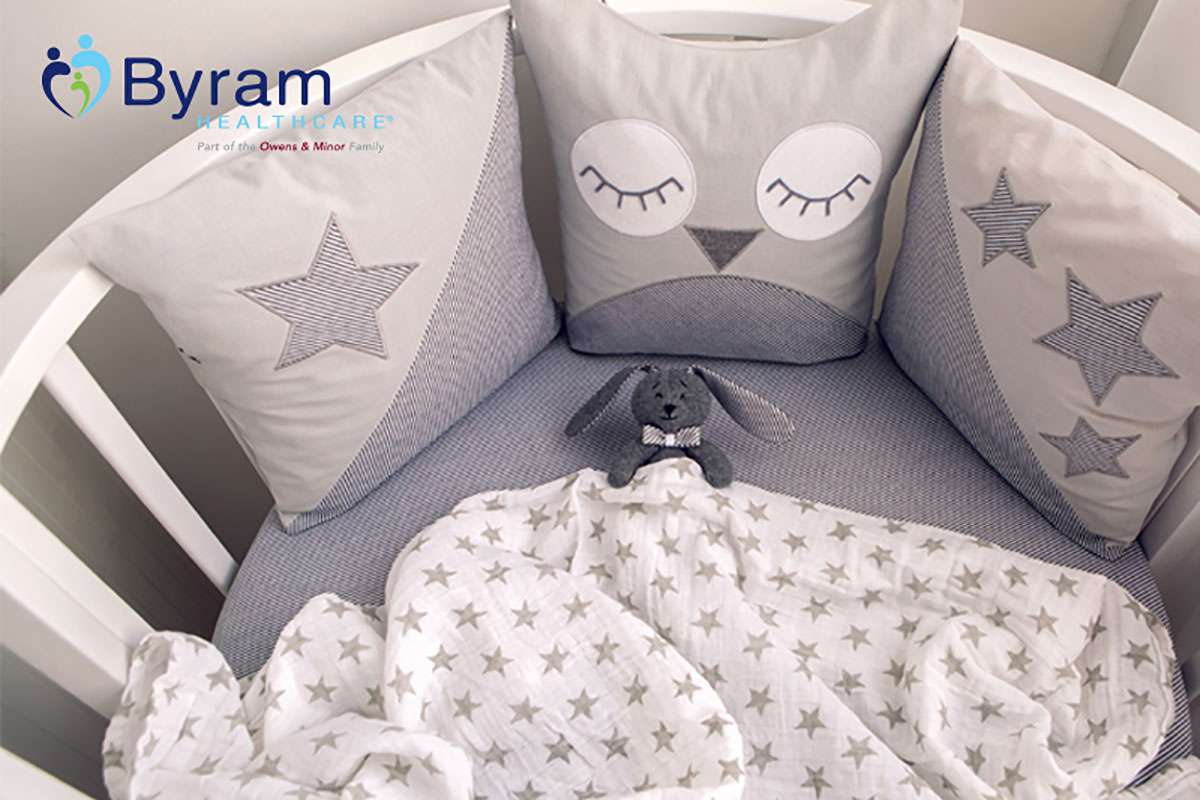 Crib Pillows
Crib pillows are fancy, but hazardous. You'll need to remove them every time your baby goes to sleep to avoid an increased risk of Sudden Infant Death Syndrome (SIDS) so you might as well skip them all together.
Baby Bathtub
They make for cute pictures, but so do baby baths in the kitchen sink—and they're free! Just make sure you always support your baby's head, neck, and body during bath time.
Ear Thermometer
Digital oral and rectal thermometers are recommended by more doctors than ear thermometers and cost much less. Plus, ear thermometers are less accurate than the other two.
Changing Table
Instead of spending money on an expensive changing table, use a low dresser, add a changing pad, and install nearby shelves to keep everything close at hand.
Bassinet
Bassinets aren't used for very long, so spending a ton of money on one is hard to grasp. Try to borrow one or just skip it altogether.

10. Find a Free Babysitter
Daycare and babysitter costs will add up—fast. Instead of spending your hard earned money on a babysitter, ask your family or even a close friend. Family members without kids get practice and if you or your partner's mom is close by, she'll love the opportunity to spend extra time with her grandchildren.
If you don't have friends or family close by that are able to help, see what options are available for you at your job. These days, more and more places of employment are offering free or reduced cost daycare.
11. Make Your Own Food
We all know that if you want to cut spending costs it helps to stop eating out so much. Instead, cook your own dinners at home and pack lunches when you're going out. Apply the same process to your baby's eating habits, once they transition into solids.
Making baby food is easier than you think. The process involves boiling vegetables then pureeing them with a blender or food processer. Add more water to make it runny (for younger babies and children) and less to increase the thickness (as they get older). Find some great recipes to add fruits, grains, meat, or even cereal to your baby's food.
Get creative with your concoctions and make large batches of each to freeze for later. You'll spend infinitely less on food each month.
12. Find a Good Pediatrician
A good pediatrician is someone who takes great care of your baby and someone you get along with. Having a good relationship with your pediatrician will bring you more than a strong peace of mind. The closer you are, the more likely your pediatrician will discuss a worry or potential problem over the phone with you instead of requiring an in-person appointment.
Another great resource is the "first nurse" hotline that many hospitals recommend for new moms. New moms have a lot of similar worries that are often easily explained. Call before setting up an appointment that will cost you upwards of $200 depending on your insurance coverage.
13. Be Generic
Most generic items, food, and clothing are the same quality for a fraction of the price. Avoid paying for a brand and stick with generic items, especially when your baby outgrows things in the blink of an eye.

14. Repurpose
We spend an astronomical amount of money on things that are easily made from every day household objects. For instance, diaper bags are simply regular bags with baby-appropriate artwork and hundreds of pockets.
Instead, use an old backpack or gym bag. It works exactly the same and will be used again once your baby potty trains. Add your own flare using fabrics, patches, or even key chains!
15. Don't Go Overboard on Toys
As technology increases, so do the complexity of children's toys. Instead of buying the next best thing, stick to the basics and spend quality time with your baby. They don't need to have an entire room filled with toys to play with once, forget about, and cry when you try to donate them. Keep things reasonable for your own sake and your wallet's.
16. Minimize Holidays
Everyone loves birthdays and holidays, but a 1-year-old isn't going to care if you throw a catered theme party or a small family get together. Make a homemade cake, buy a few presents for them to enjoy opening, and call it a day. Save your efforts for when your children will appreciate the special days of the year.
17. Breastfeed
The benefits of breastfeeding are impossible to beat. Along with the nutritional, physical, and emotional benefits of breastfeeding for both you and your baby, it's free! You'll save a lot of money, but will gain much more.
18. Take Advantage of the Affordable Care Act
Thanks to the Affordable Care Act, new mothers are eligible to receive a breast pump free of charge through your insurance provider. Breast pumps are expensive so take advantage of this opportunity!
Conclusion
Having a baby is expensive, but it doesn't have to empty your pockets. Avoid any expensive trends, don't buy things you don't need, and keep a budget. Whenever you need a reminder on how to save, just revisit this list! Also, remember that the Affordable Care Act allows all expectant mothers to receive an electric breast pump covered by their insurance provider! Visit Byram Healthcare to browse our wide selection of breast pumps to find something that works for you.
If you have any other great, money-saving techniques that helped you cut back on spending when you had a baby, head over to our Facebook page and leave a comment today!