How to Pack a Breast Pump Bag
Regardless of how long you have, it will seem like your maternity leave has come and gone in the blink of an eye. Every day inches closer to when you must return to work. You've developed a bond with your baby and gotten into a routine that will seem impossible to break. Thankfully, returning back to work doesn't have to interrupt your routine entirely, especially when it comes to nourishing your baby. There are a number of federal and state laws that protect your rights as a mother to pump at work, so you don't have to sacrifice feeding your baby breast milk.
While pumping at work will be a lot different than breastfeeding, it will still provide your growing baby with the nutrients he or she needs for a healthy development. To help you with acclimating to the changes, we've put together this article on how to pack a breast pump bag for working moms.

A Few Reminders for Working Moms
Before diving into the packing list, we wanted to remind working moms of a few things. While you've gotten the hang of breastfeeding or pumping at home, pumping in the office brings a new set of challenges.
Things Will Get Messy
If you haven't practiced with your breast pump at home, expect for a little mess. At home, you have access to clean clothes, bras, a private pumping station, and enough space to clean up. At your office, your pumping station will probably be a little different. While state laws require employers to give you access to a private pumping area at work, it will take a while to get used to it and things will get messy. Don't worry, just bring some extras and you'll be good to go.
People Will Have Different Reactions
Unfortunately, while federal and state laws require employers to allow you to breast pump at work, some people still react poorly. Expect to have a few people who express disgust, contempt, or concern. Don't pay attention to them and just keep doing your thing. If it gets to be harassment, talk to your employer and make sure that you express your concerns with this type of negative behavior.
You Will Have Bad Days
Remember when you first started breastfeeding and you felt like you weren't doing anything right? That is about to happen again. Pumping at work brings a whole new slew of problems so don't get too upset when you have a bad day.
Know Your Rights
Employers are required to give you a reasonable amount of time throughout the day in a private, non-bathroom space for breast pumping for up to one year after your baby is born. Depending on your company size, state, and job position (salary vs. hourly), your circumstances will differ. Educate yourself and know your rights before coming back into the office.
Finding the Right Breast Pump for Work
After your initial trial run of pumping at work, it will get easier. All new things take time; if you're trying to multitask or avoid painful, engorged breasts, stay calm. One thing that will help is finding the right breast pump to use at work. While you may have a favorite breast pump at home, it might not be the best for office use. Here are some suggestions for finding the best breast pump for work.
Opt for Efficiency
Pumping at work means taking time away from your desk to expel enough milk for your baby. While you might love your manual, single pump at home, it will take too much time at the office. Instead, opt for efficiency. Get yourself a double electric pump to express milk from both breasts simultaneously.
Think Mobility
Depending on the make and model of the breast pump, you will have limited mobility with power cords. Consider your pumping environment. If you have an outlet nearby, short power cords are fine. If you don't, don't compromise comfort for a power cord. Opt for a battery-powered pump instead.

Think About Noise Level
If you want to pump discreetly in your office, find a breast pump that works quietly. You are in no way obligated to buy a pump simply because it's quiet, but if you'd rather keep these moments as private as possible, then test the sound level of your pump before bringing it to work.
Consider Portability
A lot of working moms like to multi-task when they pump at work. It gives them the time to get things done, especially those smaller ticket items that seem to add up throughout the day. To get the most out of your workday, consider going portable with hands-free breast pumps. Hands-free pumps also help you stay discreet during your pump sessions.
Breast Pump Bag Packing List
As a new mom returning to work, you will probably struggle with packing your breast pump bag. Either you'll try to bring absolutely everything or you'll end up forgetting something essential. To avoid any problems, check out this comprehensive breast pump bag-packing list.
Your Breast Pump
Obviously, you'll need to bring your breast pump to work. Remember to shop around and find a quality breast pump that will help you make the most of your pumping sessions at work.
In addition to a great breast pump, find a breast pump bag that matches your style. Most pumps come looking like they're straight from the hospital and a stylish upgrade will help you actually enjoy carrying it around. Check out some great options here!
Breast Pump Accessories
If you forget any of these accessories it will be extremely difficult, if not impossible, to pump. Check your bag daily to make sure you're stocked up with the following things:
Pump Flanges – if you don't have access to sterilized washing areas, bring a clean set for each pumping session.
Membranes – the membranes on your pump wear out easily and affect the pump's suction strength. To avoid losing power in the middle of the day, pack a few extra.
Milk Collection Bottles and Lids – that pumped milk needs to go somewhere! Bring what you need and then add a few extra, just in case. We recommend about 4.
Milk Collection Bags – once you've pumped into the bottles, transfer them into milk collection bags. It's way easier to pack, store, and transfer than trying to squeeze a bunch of bottles into a cooler. To avoid added hassle, check out the Kiindle Twist All-in-One Feeding System
Battery Pack and Adapter
If you have access to a close-by power outlet, that's great! Unfortunately, most office settings won't have an optimal pumping layout. To avoid problems, pack your battery pack and an adaptor for the car to make sure you're covered for all scenarios.
Something to Write With
While offices tend to have sharpies, it's easier to have one on deck. Always label your bags with the pump date for easy retrieval later on.
Sterilization Bag
If you don't have time to rigorously clean all of your supplies at work, bring a gallon Ziplock back to use as your sterilization bag. Put all of the parts into the bag and keep them in a refrigerator. The fridge keeps them cold so the milk stays fresh and you don't have to wash them right away.
Steam Bags
Similarly, steam bags give you an easy option for getting your supplies cleaned quickly. Check them out and add them to your breast pump bag to make cleanup a breeze.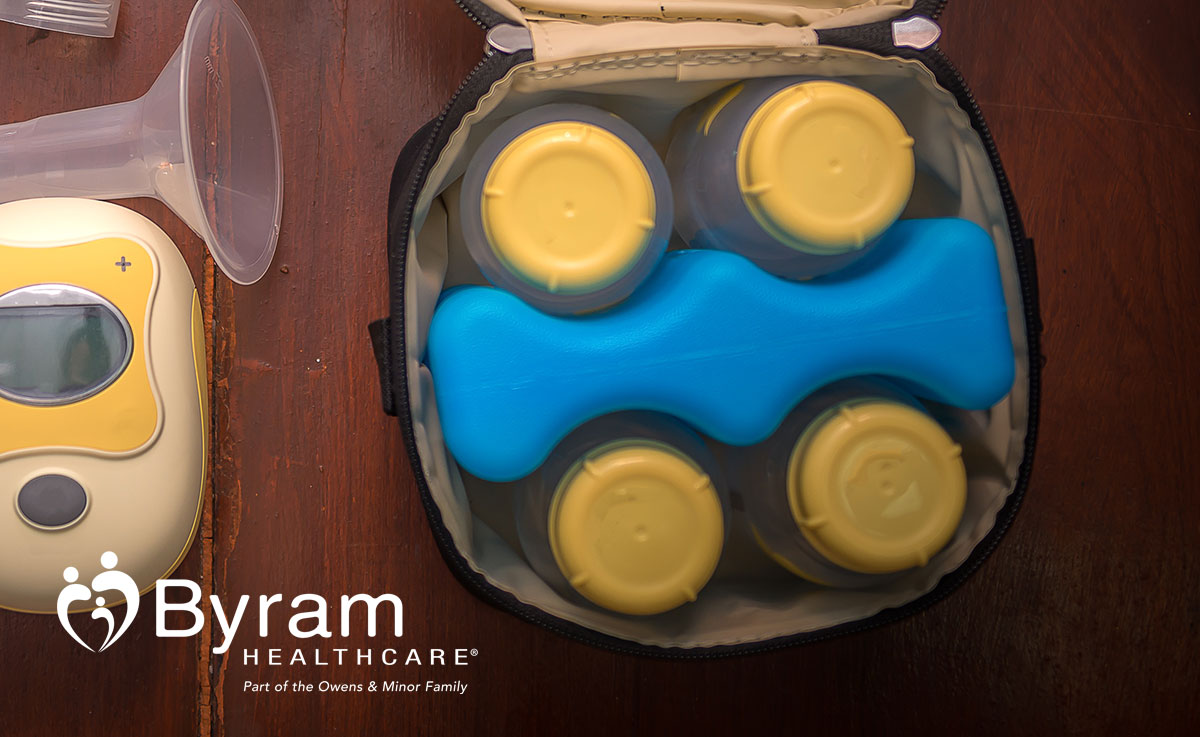 Ice Packs and a Cooler
While most offices will give you room in the refrigerator for your milk, you will still need to transport it home. Do not try to transport it without a cooler! It's not worth the risk, even if you have a short commute. Instead, invest in a small ice pack and cooler. Remember, you'll get more room out of it if you transfer bottles of milk into milk collection bags.
Some other great things to keep in your breast pump bag are a few hands-free pumping bras, extra breast pads, nipple cream, hand sanitizer, an extra blouse or two, and some healthy snacks.
Conclusion
Breastfeeding your baby is one of the best things to do to ensure they grow up healthy and strong. Going back to work doesn't mean you need to stop giving your baby these essential nutrients. To make sure you're expelling enough milk for your baby, it's important to pump at work. Pack up your breast pump bag each night so you're ready in the morning and always remember that you have a right to pumping breaks at work. If you're having difficulty pumping, or breastfeeding, talk to your doctor about finding a breastfeeding specialist. When you're getting your breast pump bag organized, don't forget to head to Byram Healthcare and browse our wide selection of manual and electric pumps. Thanks to the Affordable Care Act, new and expecting mothers are eligible to receive an electric breast pump covered by their insurance provider.
If you have any tips or stories about breast pumping at work or packing up the perfect breast pump bag, head over to our Facebook page today and leave a comment!