Breastfeeding Diet: Best Food to Eat While Breastfeeding
Fresh and Fruity Summer Breastfeeding Foods
Perhaps the question we get most often from pumping mamas is: What can I do to make the best (and/or most) breast milk for my baby?
Just by asking that question, it's clear you're doing everything in your power to nourish your precious baby in body and soul.
But we know you like answers that help you take action, so one answer to this frequent question is: Eat the best and most balanced diet possible. That's why we dedicate so much time and so many words—on our Facebook posts and also here on our blog—offering information about nutrition and sharing recipes we love that feature "breastfeeding food" ingredients.

Breastfeeding Food: Health & Energy
Of course, another key to your success is staying relaxed and centered. So if you go and put yourself on a crazy strict, approved-feeding-food-only diet, your stress and regiment may, in fact, cancel out all the benefits you've worked so hard to digest.
As you'll remember from an earlier discussion on balanced diets, women who do not follow a strictly "nutritious" diet can still breastfeed successfully. Eating well, or in other words, eating a balanced diet, has more to do with maintaining your personal health and energy so you can meet the rigorous demands of motherhood with smiling strength. But as always, we encourage you to be kind to yourself (and have dessert when you want).
Because we have already individually highlighted the foods known to provide some type of lactation benefit (scientifically termed galactagogue but referred within our community as "feeding foods"), shared a variety of recipes featuring these feeding foods, and talked at length on balanced diets, it's now time to put it all together by modeling a full day's menu.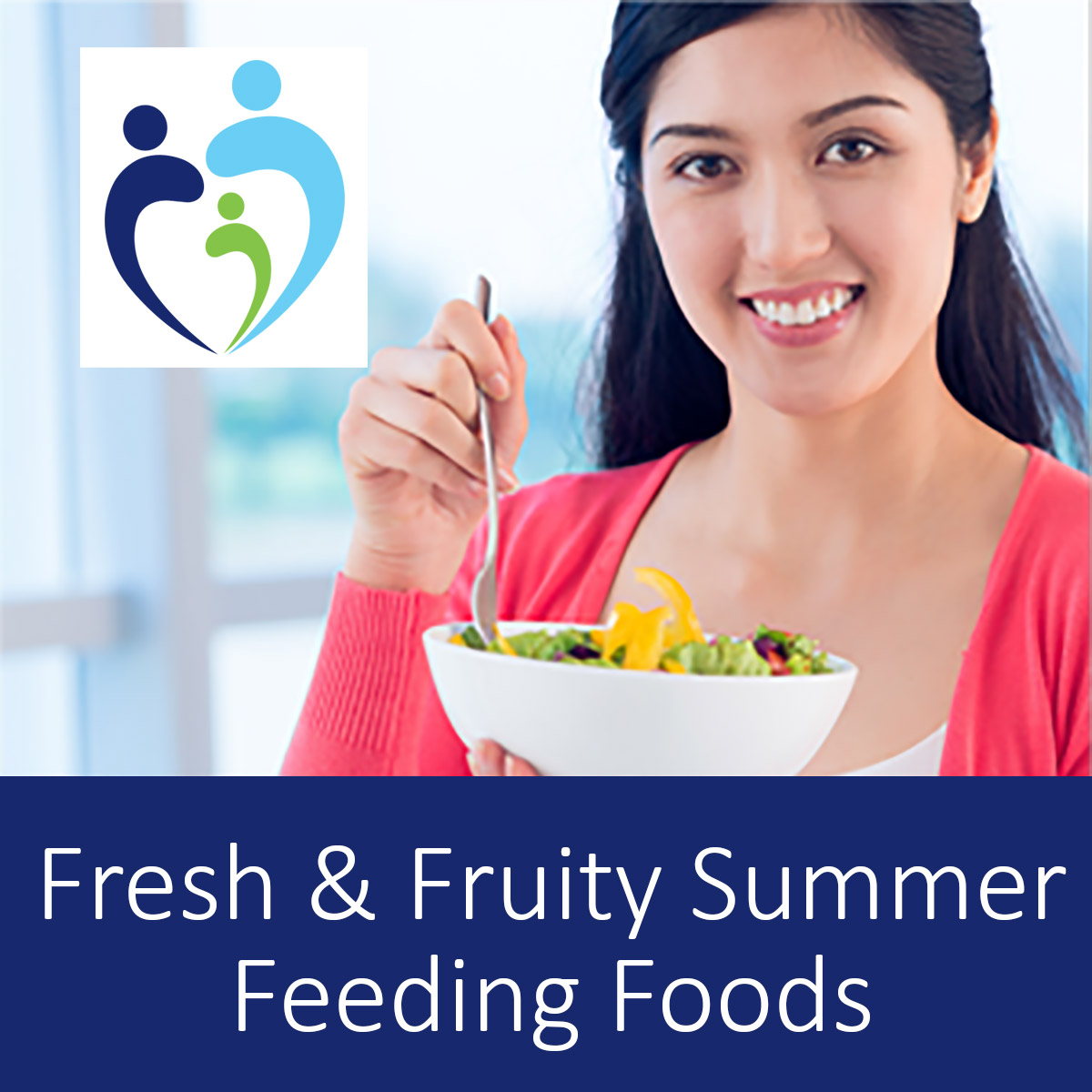 A few quick reminders:
An ideally balanced breastfeeding food diet is much like any other healthy diet:
An ideally balanced diet is natural, fresh, and has variety.
An ideally balanced diet includes something from each group:
Fresh vegetables and fruits (preferably those in season) of all types, raw,
steamed or baked.
Different grains (wheat, rice, corn, barley, millet) preferably whole, in
various forms, in the form of whole or broken kernels, as well as semolina
and flour (and products made from them including bread and pasta).
Protein foods from animal sources (dairy products, eggs, meat, and fish)
and/or plant sources (lentils, beans, soybeans).
Small quantities of fats, preferably uncooked, cold-pressed vegetable
oils.
An ideally balanced diet also includes varying the types of food preparation like grilling, baking, steaming, etc.
An ideally balanced diet includes at least 64 ounces of water (approximately 8 glasses).
This menu features the breastfeeding food that follows: oatmeal, blueberries, spinach, papaya, salmon, and apricots as well as seasonal late-summer peaches and tomatoes. Adjust this 2,000-2,500 calorie menu according to your hunger, preferences, and the guidance of your doctors, lactation counselors, and/or nutritionists.
BREAKFAST
Blueberry Oatmeal
Yields: 2 Servings
Oatmeal Review: According to researchers, consuming a bowl of oatmeal daily can lower your blood cholesterol and help to maintain healthy blood pressure. Although it's never been proven as a galactagogue scientifically, health practitioners and mothers share the belief that this gooey and comfy food does support your body's efforts in lactation. It is also a fabulous source of iron—a possible explanation or just an extra benefit.
Ingredients:
1-3/4 cups 2% milk
1 cup quick-cooking oats
1/8 teaspoon salt
1/3 cup packed brown sugar
1/2 teaspoon ground cinnamon
3/4 cup fresh or frozen unsweetened blueberries, thawed
Instructions:
In a small saucepan, bring milk to a boil. Stir in oats and salt.
Cook over medium heat for 1-2 minutes or until thickened, stirring occasionally.
Stir in brown sugar and cinnamon.
Divide between two serving bowls; top with blueberries.
SNACK
Gorgeous Green Galactagogue Smoothie
Adapted from Megan Ware RDN LD's recipes
Yields: 2 servings
Spinach Review: No doubt you've heard that spinach is a "super food." It is one of the most affordable vegetables and it's protein-packed—supplying the same daily values as meat, fish, eggs, and chicken. It's integral to skin, hair, and bone health. It delivers essential irons, vitamins, and minerals. Spinach has shown to improve blood glucose control in diabetics, lower the risk of cancer, improve bone health, and lower the risk of developing asthma. It is a true super food. Spinach is also a fabulous dietary element during pregnancy and lactation due to its rich content of folic acid. It's even suggested to improve the quality and taste of your breast milk. Now that's what we call a good breastfeeding food!
Ingredients:
1/3 cup vanilla yogurt
1/2 frozen banana
1/3 cup frozen mango chunks
1/2 cup fresh spinach
1 cup unsweetened almond milk
2 teaspoons natural maple syrup
4 ice cubes
Instructions:
Combine all the ingredients in a blender.
Blend and enjoy.
LUNCH
Papaya Avocado Salad
Yields: 4 Servings (approx. 2/3 cup each)
Papaya Review: Although not proven via research, papayas have been commonly used in Asia as a galactagogue. Traditional thought is that the enzymes and phytochemicals in papaya may enhance breast tissue as well as improve lactation. Papaya has also been used as a safe and natural sedative. The sedating quality may help you to relax, and at the same time help with the milk letdown process. It definitely passes the test as a super breastfeeding food.
Ingredients:
1 medium papaya, diced
1 medium avocado, diced*
¾ cup diced jicama
2 tablespoons chopped toasted walnuts (or a nutty cereal like grapenuts)
2 tablespoons light vinaigrette
*Choose an avocado that is ripe, but not mushy so it will slice, but not lose its shape when combined with other salad ingredients.
Instructions:
Gently combine papaya, avocado, jicama, and walnuts in a medium bowl.
Chill for at least an hour and serve.
DINNER
Grilled Salmon with Grilled Peach and Tomato Salsa
Yields: 2 dinner portions
Ingredients:
2 6oz wild salmon filets
1-2 ripe, but firm peaches, halved and pitted
1 large heirloom tomato (or 2 smaller vine ripe tomatoes), cubed
1 jalapeno, seeded and finely chopped
½ cup red onion, finely chopped
3 Tbsps fresh lime juice
salt to taste
Instructions:
Prepare the Grilled Peach and Avocado Salsa:
Heat the grill to medium-high and spray with oil.
Cut the peaches in half, remove the pit and lightly coat with olive oil or spray with cooking spray.
Place peaches on the preheated grill cut-side down and grill until peaches have softened and have grill marks, but are not falling apart.
Transfer peaches to a cutting board, chop into bite sizes, and place in a bowl.
Add the remaining ingredients for the salsa to the bowl with the grilled peaches, and toss to combine. Refrigerate until ready to use.
Grill the Salmon:
Drizzle individual salmon filets with olive oil, and sprinkle with sea salt and pepper.
Place salmon on the grill skin-side down and grill until the juices seeping out are opaque and the internal temperature of the fish reaches 145 degrees F.
Continue grilling if salmon is still raw in the center.
Serve grilled salmon with grilled peach and tomato salsa.
DESSERT
Broiled Apricots with Fresh Ricotta and Pistachios
Source: Martha Stewart Living, May 2013
Yields: 8 Servings
Apricot Review: Juicy, delicious apricots are full of beta-carotene and fiber. They are also high in Vitamin A, C, potassium, and calcium and well thought of as a galactagogue.
Ingredients:
1 tablespoon sugar
4 apricots, halved and pitted
8 teaspoons fresh ricotta cheese
2 tablespoons chopped pistachios
Instructions:
Preheat broiler.
Place sugar in a small saucer. Dip cut side of apricots in sugar to coat and
transfer to a small broiler-safe baking dish.
Broil, rotating once, until apricots are caramelized and juicy, 3 to 4 minutes.
Remove apricots from oven and let cool slightly.
Top with ricotta and pistachios and serve immediately.
That's it for breastfeeding food. But stay tuned for more helpful tips and summer tricks.
Find great breast pumps, bags, products reviews and more on our website!
*Note: This information was compiled by our resident Moms in the Know and is not informed by medical or legal experts. It is strongly suggested all dietary plans are discussed with your physician and/or lactation consultant.