Suggestions on How to Find the Perfect Nursing Bra
Throughout your pregnancy, you will spend hours researching the best baby products, putting together a nursery, and running Google searches on everything that could go wrong. You will try to be as prepared as possible, but having a new baby means that life is about to become unpredictable. Rather than spend hours stressing about what you can't control, remember that you will have control over a few things. One of which, is whether or not you breastfeed.
Breastfeeding is the best way to ensure your baby is receiving the nutrients they need to grow and have a healthy development. It creates a unique bond between mom and baby and will give you some much-needed down time throughout the day. While many new moms struggle with latching at first, consistency and patience will inevitably lead to success. If you need any help, contact your doctor to find a latching consultant near you.
While breastfeeding is an amazing gift, remember that unless you refuse to leave the house for the first year of your baby's life, you won't always be breastfeeding in the comfort of your own home.
This is where nursing bras come in handy.
To get yourself prepared for breastfeeding and everything that comes with it, take some time to find a good nursing bra. Doing so will help you pump, or breastfeed, without having to physically take off your bra—great for discreet, comfortable feedings. In this article, we'll discuss a few suggestions on how to find the perfect nursing bra today.

1. Wait Until the Third Trimester
First and foremost, wait until you approach your delivery date to measure yourself and find a nursing bra. When you buy a nursing bra too early, your breast size will end up outgrowing your nursing bra. Instead, wait until the very end of your pregnancy, as close to delivery as possible, or even a week or so post-delivery.
During that first week post-delivery, your body will still be healing, so you'll likely avoid unnecessary trips out of the house. You don't have to rush to get a nursing bra right away or pre-delivery. If it doesn't fit your schedule, don't worry.
In fact, it might even be better to wait until you start breastfeeding regularly. After you start breastfeeding, your milk supply will fluctuate to your baby's feeding schedule, giving you an idea of size consistency for the future. Measure yourself at this time and then, once you're ready, head out to find a nursing bra that fits you well.
2. Find the Perfect Fit
With that being said, you need to find the perfect fit for you nursing bra for maximum comfort and convenience. The problem is, taking your own measurements accurately isn't always easy. Your nursing bra will be a completely different size than your regular bra.
Here's how to measure for accurate nursing bra sizing.
First, measure the part of your torso that's directly underneath your breasts and round up to the nearest whole number. This is how you'll determine what band size you'll need.
Next, measure around the fullest area of your breasts. Use flexible measuring tape to make this step easier. Make sure that the tape is even around your whole body. This will give you your bust size.
To find your cup size, all you need to do is subtract your band size from your bust size. The difference between the two will tell you your cup size. Each cup is roughly one inch, but always take this as an estimate.
Once you've got your size, either head to the store or do some online shopping. You might need to try on a few brands of nursing bras to find your perfect fit, even if they're all the "same size."
If your breasts are slipping out of the bottom, the cups are wrinkling, the straps are slipping, or the band is riding up your back, then your nursing bra is too big.
If you feel like your bra is poking you, if it doesn't lie flat, and if there are parts of your breasts spilling out of the sides, then your nursing bra is too small.
While some women are able to do this part perfectly, getting a professional measurement done will ensure 100% accuracy the first time around. Head to your nearest department store or maternity boutique to get measured.
3. Prioritize Hooks and Eyes
On the back of all bras, there are hooks and eyes used to clasp the bra together. This is the same for nursing bras. Since you'll be fluctuating in size, depending on your milk flow, you want to find a nursing bra that has ample amount of hooks and eyes. Opting for a nursing bra with only one or two hooks and eyes means that you won't be able to adjust your bra with your changing body. Find a nursing bra that has at least four hooks and eyes and keep in mind the more hooks, the better.

4. Go for Comfort
Comfortable nursing bras make a world of difference. Rather than walk around feeling uncomfortable and restricted all day, make sure you invest in something that makes you feel good. To get the most out of your nursing bra, look for ones that have wider straps. While they're not exactly sexy per-se, the wide straps will help evenly distribute the weight of your breasts more effectively. This makes the world of a difference when you're nursing, especially during those periods of engorgement.
The straps will do a sufficient job at keeping your breasts supported, so don't feel the need to find something with underwire. Not only are they uncomfortable, underwire has been shown to block milk ducts, which leads to infection and eventually, mastitis. If you absolutely need the added support of underwire, make sure it fits properly and don't use it as your primary nursing bra—save if for those special occasions.
Finally, find a breathable material that is comfortable against your skin. Cotton is soft, comfortable, and breathable along with other synthetic mixtures. Find something you feel good in. As long as it's breathable, it will be fine.
5. Don't Rely on One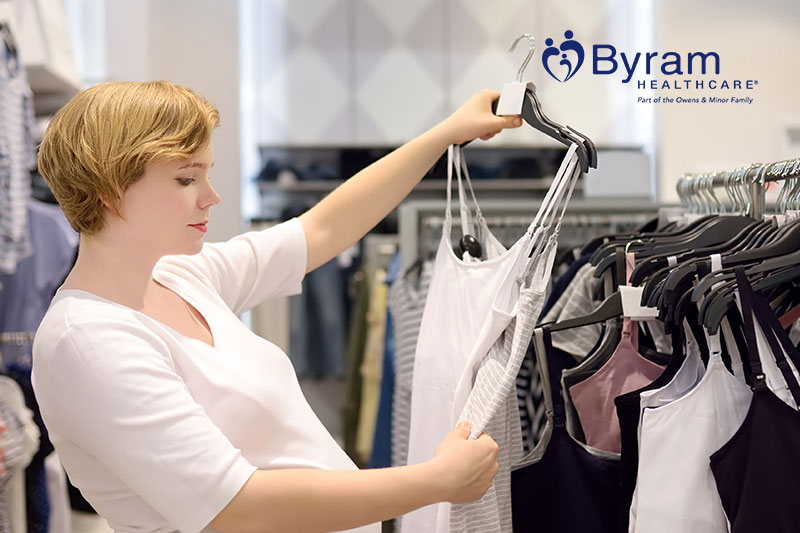 When you're shopping for your nursing bra, don't expect to buy one and be done. Instead, get at least three. This will give you the chance to rotate between clean bras without getting stressed about doing laundry.
There are so many different styles of nursing bras available and you should invest in a few different ones. We recommend getting different styles for different times of the day. There are two primary options; one for the cup to unclasp or one with flexibility to slide your breast out for feedings. Get one of each and see which one you prefer.
Finally, sleeping bras are great for every day lounging and sleeping. They're comfortable enough to wear to bed and they do the job of giving you ample accessibility. Sleeping bras don't have as much support as traditional nursing bras, but they're a great addition to your at home wardrobe.
Conclusion
Every woman's body is different. Your best friend's favorite nursing bra might not be the best fit for you. Instead, read through these tips and take the time to search for your perfect nursing bra. Getting professionally measured is one of the best ways to ensure you get a good fit without the hassle of making excessive returns. If you have any questions or concerns about breastfeeding, or are having difficulty finding the perfect latch, talk to your doctor today. There are a ton of great resources, latching consultants, and classes you can take to prepare yourself or try new techniques with your newborn. In the meantime, make sure you find a good breast pump. If you opt for a hands-free version, you can wear the pumps inside your nursing bra when needed and make the most out of your time. Plus, thanks to the Affordable Care Act, new mothers are eligible to receive an electric breast pump covered by their insurance provider. Check with your provider and shop our selection at Byram Healthcare to find something that works for you.
If you have any suggestions on finding the perfect nursing bra, or want to share your favorites with other new moms, visit our Facebook page today and leave a comment! Personal recommendations are always a great starting point when searching for the perfect nursing bra.