Baby Proof Your Home with These Tips
The process of becoming a parent is overwhelming. Your to-do list continues to grow and before you know it nine months have come and gone. While there are a few things that don't really matter if you wait until after delivery, there are others that do. One of those things is getting your car seat—without one, the hospital won't approve your discharge. The other thing is baby proofing your home.
While newborns might not seem like will get into anything, time goes by fast during those first few months. During a new parent fog is not when you want to be making sure your home is safe for baby. You're in a whirlwind, trying to adjust to a whole new life and deal with sleep deprivation so baby proofing our home beforehand is a much better idea.
Some parents are skeptical about whether or not they should baby proof their home and we're here to say that yes, you should. It's not about being flashy with the newest products; it's about making sure your baby stays safe.
While it may seem overwhelming at first, breathe and take it step-by-step. To help you create a safe home environment for your baby, check out our tips on how to baby proof your home.

The First Step: Your Car
Let's take a look at how to baby proof your car first. Since you'll need to bring your newborn home in an approved car seat, you might as well make sure everything else is ready to go as well.
Clean Your Car
Give your car a thorough, detailed clean. Use a vacuum to access spots that may have been neglected over the past few years. If you find any small objects, consider them a choking hazard and clean them out. Spare change, pens, paperclips, or anything else small should be out of the backseat so your baby can't grab them.
Get the Right Car Seat
Next, find the right car seat. Find a hospital-approved rear-facing car seat to put in the back seat of your car. After installation, there are a number of places that will provide a free inspection to make sure it is safe and up to standards.
Consider Sun Shades
Finally, assess your windows. Does it get too bright in your car? Does the light reach the backseat? Are shades sufficient to block the light in the back? Depending on your car, you might want to consider investing in some shades, at least in the back, to help reduce harmful rays that reach your baby.
The Next Step: Your House
Once you've gotten your car taken care of, it's time to move onto the house. This is a big one so to avoid getting overwhelmed start by looking at the big picture. Make sure your smoke detectors and carbon-monoxide detectors are working properly and go to the store and purchase as many baby gates as you need to block off the stairs in your home.
After tackling the main logistics, use common sense. If it seems like it might be dangerous to a baby, it probably is. To help make sure you cover all of your bases, work through the following list.
1. Child Proof Your Doors
First things first, child proof your doors. As soon as they're mobile, babies will open and close anything in reach. This isn't bad, per se; exploration helps a baby's brain develop. However, opening and closing doors can lead to hurt fingers or entering rooms that are off limits. Child proof your doors so that when they're closed, they stay closed and when they're slammed, they won't hurt wandering fingers.
For added security, we recommend keeping your bathroom doors closed and locked when they're not in use.
2. Don't Let Water Get Too Hot
Check the temperature of your water heater. If it's more than 120 degrees, turn it down. Once babies start exploring, the last thing you want is for them to be burned from water that is too hot. Contrary to what you might think, this is actually pretty common, but completely avoidable. With that being said, you should always be present in the bathroom with your baby.
3. Secure Heavy Objects
Cabinets, tables, and entertainment centers will be knocked, kicked, or ran into. Don't let the heavy objects topple over and hurt your baby. Secure anything too heavy and move items that can't be secured. This doesn't have to be permanent, but it's essential in baby proofing your home.
4. Put Away Small Objects
On the other hand, put away any and all small objects that are easily accessible to a curious baby. Small objects are a major choking hazard during many stages of development. To avoid scares or unnecessary hospital visits, just put your knick-knacks away or move them to taller shelves.

5. Cover Outlets
A simple, yet effective solution to potential shocks is using outlet covers. They're made of plastic and slide right into the socket so that babies can't put their fingers inside. They're cheap, easy, and a great way to avoid a catastrophe.
6. Baby Proof Your Blinds
Window blinds come equipped with a convenient string that allows you to open or close them. These are a strangulation hazard if left dangling with your baby exploring. Instead, keep them out of reach or consider updating your window treatments to be cordless.
7. Put Away Hazardous Products
Cleaning materials, laundry, or medications need to be put away and out of reach. Babies put anything and everything into their mouths, don't allow them to be exposed to poisonous products. Move any hazardous products to higher shelves or put them in a locked closet.
8. Soften Corners
When your baby starts to crawl, they'll be racing around your house. Keep their soft heads protected with corner guards. Corner guards help round out the corner to avoid unwanted cuts or scrapes. There are also a lot of great, affordable ways to soften corners.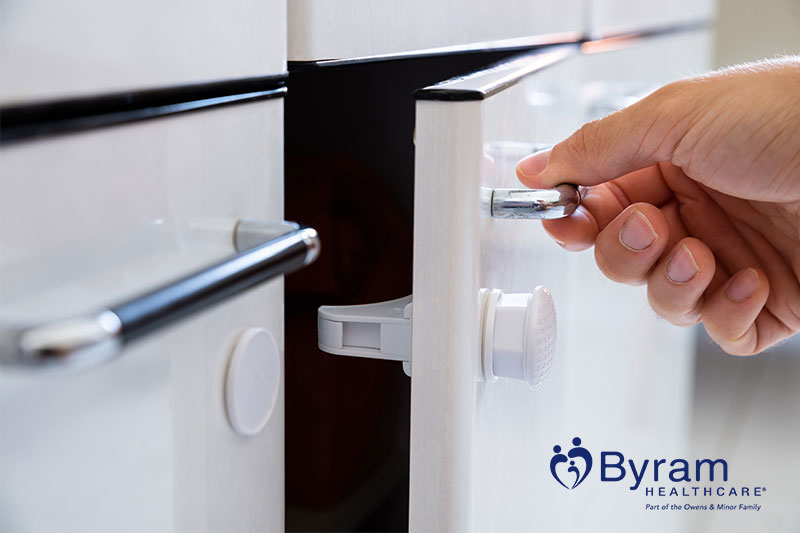 9. Spend Time in the Kitchen
The kitchen is filled with distractions. When you have a little one around, turning your back is risky. Make sure that you stay worry-free by baby proofing your kitchen. Consider reorganizing your cabinets to keep dangerous and toxic cleaning supplies from reach. Move them to higher cabinets and replace them with baby-safe kitchen gear like pots and pans or Tupperware.
Keep all of the knives, sharp objects, or electronic gear above your waist. Don't keep choking hazards on low levels of your kitchen and make sure magnets are either high on the fridge or stored away until your baby is older.
Once you've gotten the lower level of your kitchen safe, now it's time to install latches, locks, and stove-knob covers. If you have a lot of rugs in the kitchen, consider adding nonskid pans so your baby doesn't fall or create a tripping hazard for you. Here are some other great ways to baby proof your kitchen.
10. Practice Crib Safety
Having the improper set up for your baby's crib is dangerous. When cribs and mattresses aren't safe, they lead to injury and at times, fatal disasters. To keep your baby safe, make sure that the mattress is baby-friendly and keep blankets and pillows out of the crib. Avoid crib bumpers and save the stuffed animals for when they're older. When things are inside the crib with your baby, suffocation risks increase.
Don't overlook the small details. Your baby is vulnerable and trying to learn about his or her new world, so they'll get into anything they can reach. If you feel like you're going over-the-top, that's okay. As long as you feel like you're taking the steps you need to keep your baby safe, that's all that matters.
Beyond Baby Proofing
Even if you baby proof your entire home, there could still be unseen problems lurking around. Get a house inspection to be sure you didn't miss anything, especially if it's been a while. A house inspection will make sure there are no leaks, signs of mold or mildew, and ensure all of your electrical appliances are safe to use. While we recommend this as a baby-proofing step, it's still beneficial to do regularly as a homeowner so you can check off two boxes here.
Conclusion
During your pregnancy, you'll be in full preparation mode. While you might not get to everything on your list, take the time to baby proof your home before you deliver. Doing so will be easier and will give you the peace of mind you want when bringing a newborn home from the hospital. Plus, it'll give you a chance to test out all of the new additions to your home and get used to them. During your preparation, don't forget that, thanks to the Affordable Care Act, new mothers are eligible to receive an electric breast pump covered by their insurance provider. Check with your provider and shop our selection at Byram Healthcare to find something that works for you.
If you have any other great baby proofing tips, head over to our Facebook page today and share!