How to Travel Safely During Pregnancy
Travel is a part of life. Sometimes our relatives live out of state, we receive new job opportunities, or we simply need a break from mundane routines. Regardless of the reason, most people have at least traveled once in their lifetimes – in a car, on a plane, or by boat – and will do so again.
Every time you travel, the process is the same. There's a little anxiety before getting to the airport or loading the car, followed by a sense of calm and excitement, eventually leading to feelings of restlessness. Some people love travel and some people hate it, but usually the appeal is all in the destination. While it's often taboo for pregnant women to travel, it's safe when the necessary precautions are taken.
To help you get to your destination without harming you or your growing baby, we've put together a comprehensive guide on how to travel safely during pregnancy.

Get Prepared
Regardless of how you're planning on getting to your next destination, being prepared is crucial—especially if you're pregnant.
While we mention this a few times throughout this article, we can't stress it enough: if you're pregnant, always discuss your travel plans with your doctor before making any commitments. This includes getting a checkup before you leave to make sure that everything is normal and you are safe to travel.
Next, create a packing list. Start early so you have time to progressively add things as they come to mind. Some basic things to pack include:
Any pregnancy-safe, over-the-counter medications that you'll need. It's always better to have them on hand than to run out in the middle of the night and find them.
Prescription medications that you're currently taking.
Hemorrhoid ointment, just in case.
All of your prenatal vitamins.
A copy of your medical records.
Insurance cards, for both regular coverage and international coverage if you're leaving the country.
Contact information of your primary care physician.

Specifics for Air Travel
If you plan to travel by air, there are specific details that you need to understand.
First of all, as long as you have a normal, healthy pregnancy, it's usually safe to fly. The only reason women late in their pregnancies are urged not to fly is because they could go into labor at any moment. To ensure that you're cleared, you need to talk to your doctor—we can't stress this enough. Each pregnancy is different and the only person who should tell you if your situation is safe for air travel is your doctor.
Second of all, listen to your body. If you are experiencing high levels of morning sickness and fatigue, even if you're cleared for travel, it is better to wait until you have more strength. Don't push yourself.
Finally, make sure you understand all of the complications of traveling by air. We recommend taking this list of questions in when you see your doctor so you get all of the information you need to know by a trusted, and licensed, physician.
Here are some great questions to ask:
Is it safe to walk through airport screening machines? Should I avoid them and request a pat down instead?
Does the change in cabin pressure have an effect on my baby?
Will the radiation from flying harm my baby or me?
When should I restrict travel?
Will I experience worsened pregnancy symptoms from the change in altitude?
Do you have any recommendations for an emergency doctor in the area I'm traveling?
After you've prepared yourself physically and medically, research the policies of the airline you'll be using. Sometimes, you'll need a note from your doctor to verify your due date and be allowed to board.
The best way to make sure you're ready is to call your airline and double check cut-off times and policies. When you purchase your ticket, choose an aisle seat so it's easier to get up and stretch.
While air travel is the most expensive way to travel, it's the fastest. If you're going somewhere far away, it is usually best to take a plane, but avoid any trips with long layovers. Instead, buy the slightly more expensive ticket and opt for the non-stop trip.
Details About Sea Travel
While it's not as common to travel by sea, people still do it. If you're planning to travel by sea during your pregnancy, you don't have much to worry about. Sea travel is generally safe and will only cause a minor increase in nausea or morning sickness from the motion of the boat.
Just in case you need a medication, talk to your doctor about pregnancy-safe seasickness remedies. It's better to be prepared with something safe, than risk taking something available on board. There are also seasickness bands available that target acupressure points and prevent nausea.
If you're planning on taking a cruise, contact the company to make sure there will be a doctor on board in case of an emergency.

International Travel
If you're planning an international trip, there are a few more things to take into consideration prior to embarking.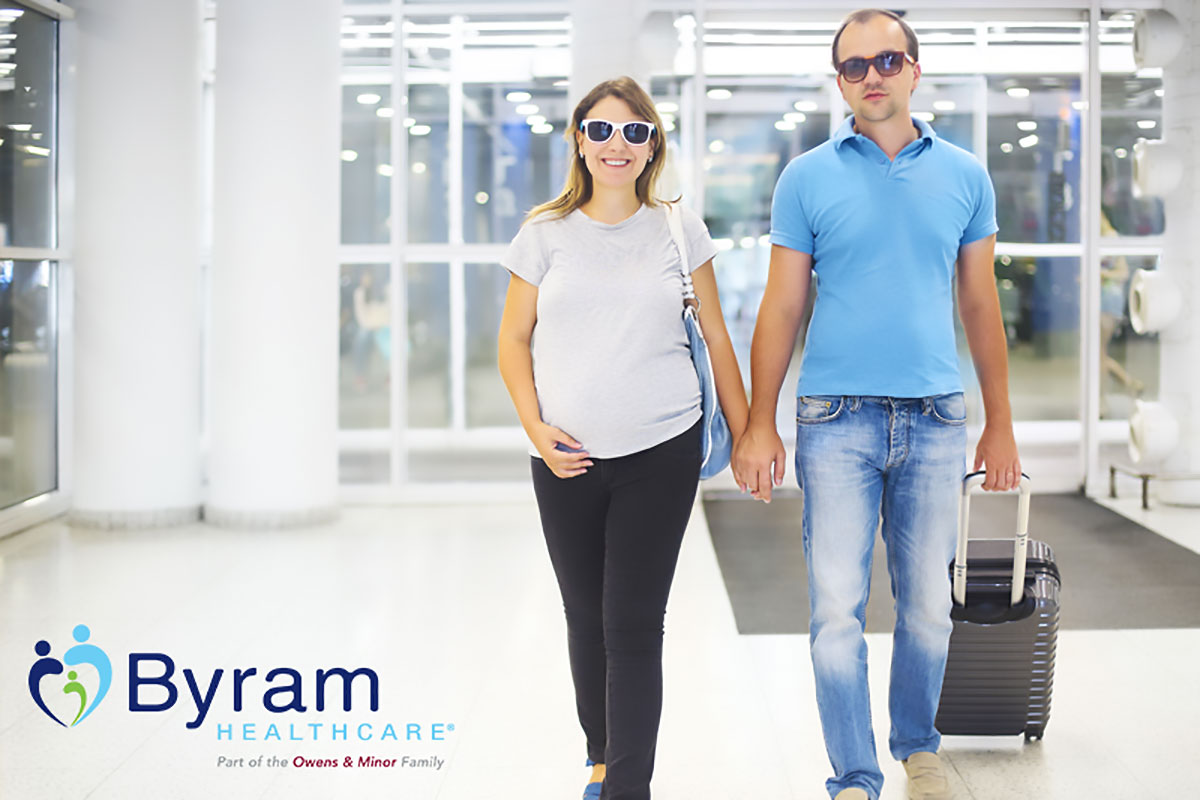 First, and most importantly, check your destination's travel advisories. Zika, a communicable disease spread through mosquitoes, is extremely detrimental to pregnant women. If you are infected with Zika during pregnancy, there is a possibility of transmission to your baby that leads to Congenital Zika Syndrome.
Congenital Zika Syndrome is a very serious disease that causes developmental problems. Always check the Center for Disease Control and Prevention for travel notices.
Additionally, it's highly recommended that if you're traveling internationally, you have some sort of international health plan. While we all hope for the best, sometimes disaster does strike. Being prepared and having prenatal coverage abroad is a good way to ensure that you and your baby stay safe and healthy. Discuss your options with your doctor and contact your insurance company to see if extended or international coverage is available.
While erotic international dishes may seem tempting, remember that your stomach is sensitive right now and you're eating for two. Don't take any risks by consuming things that could lead to food poisoning and avoid street-food at all costs.
Stay Comfortable and Healthy
Regardless of how you're going to be traveling, one thing is for sure: comfort is key. Pregnancy brings about changes in your body that are uncomfortable, so take a few extra measures to make sure you aren't putting even more distress on yourself. Here are a few tips to staying comfortable while traveling pregnant:
Always, always wear comfortable shoes. Pregnant feet swell and even if you're sitting down, dressing in comfort over style always makes you feel better.
Stay hydrated! Regardless of if you're traveling by plane or car, make sure you drink enough water. If that means you have to get up to use the bathroom or stop frequently on your road trip, so be it. Dehydration during pregnancy reduces blood flow to the uterus, which is not ideal.
Pack the essentials. If you have a pregnancy pillow that you can't sleep without, bring it. Don't worry if it takes up a lot of extra space, you'll be happy you brought it when it comes time to sleep.
Rest when you need it. Travel is hectic and whether you're driving, flying, or taking a boat, give yourself plenty of time to take rests throughout the journey.
Be prepared with healthy snacks so you eat nutritiously while away. Gas station food seldom has any nutritional value and airports cost an arm and a leg. Carry your own snacks instead!
Buy some good quality compression stockings to help with blood circulation on flights and make sure to get up and walk around if it's long.
If you're traveling in a car, always wear your seatbelt—no exceptions! Aim for only 5 to 6 hours in the car per day so that you're not sedentary for long periods and take lots of breaks.
Conclusion
Pregnancy is a wonderful part of your life, but it shouldn't put your life on hold. As long as you make sure to talk to your primary care physician prior to taking any long trips, you will be prepared. If they advise you not to travel, take their advice seriously and save the trip for post-delivery. If you're cleared for travel, then we hope that these tips on how to travel safely during pregnancy come in handy. For more pregnancy tips, info, and product reviews, check out our website. And remember, thanks to the Affordable Care Act, all new moms are eligible to receive a breast pump covered by their insurance provider. Head over to Byram Health Care to shop our selection!
As always, we invite you to share any tips, tricks, or travel hacks that you found useful during pregnancy. Head on over to our Facebook page and leave a comment today! We also welcome funny stories and would love to hear about your pregnancy adventures!