Medela Pump in Style Advanced
So you found out you can get a free breast pump (thank you Affordable Care Act), but are not sure which pump to choose. Well, one of the six awesome breast pumps offered by Byram is the Medela Pump In Style Advanced.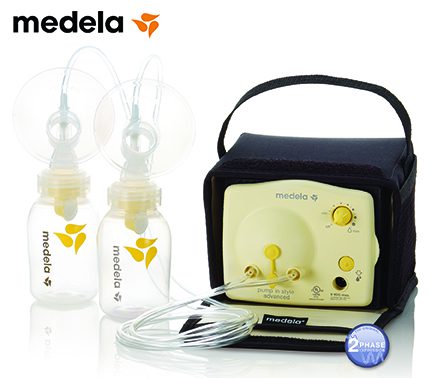 When it comes to breast pumps Medela is one of, if not the most trusted and reputable brands. The Medela Pump In Style Advanced is their best work yet.
 Key Features & Benefits
What Are the Key Features and Reviews for Medela's Pump In Style Advanced?
As a premium medical supplier, Byram Healthcare only offers market-preferred breast pumps to our clients. And due to the aforementioned Affordable Care Act, Byram Healthcare offers a variety of highly rated breast pumps – through the vast majority of insurance plans – at no cost to you!
The Medela Pump in Style Advanced is one such pump. While others are paying a few hundred dollars for this pump on e-commerce sites and retail stores, you can pat yourself on the back knowing you didn't spend a penny.
Research & Reviews
The most difficult part of the whole process is researching the various pumps and deciding which specific pump is right for you. Over the next few months we will individually feature each pump supplied through Byram Healthcare. Hopefully this can help you with research and making a decision.
The first pump we are featuring is the highly-regarded Medela Pump In Style Advanced Breast Pump
Medela Pump In Style Advanced Overview
Product Overview
Medela is one of the best-known breast pump manufacturers, in part due to incorporating their own unique technology through the evolution of various models.
The Pump In Style Advanced features the 2-Phase Expression technology. The One-Touch Let-Down Button – which is heralded to help moms produce more milk in less time – helps moms to pump at maximum comfort in the expression phase.
This model is designed for
• Multiple daily uses.
• Double pumping.
• Ease and portability
This model features
• 2-Phase Expression technology.
• BPA free materials.
• A separate battery pack for back-up, anywhere pumping.
For additional information please visit: http://www.medelabreastfeedingus.com
Medela Pump In Style Advanced Reviews
Here's what others are saying:
"I've had my Pump In Style since 2009 and it's definitely the best alternative if baby isn't attaching properly. The suction works just as well as the hospital grade."
-By nafsee on March 16, 2014
"I've been using my Medela Advanced Pump in Style for 4 months now and absolutely love it. It allows me to work full-time and continue to breastfeed. When I first started pumping I had to keep it on the slower setting, but after a few weeks I was able to pump at maximum without any discomfort. I'm extremely happy with the pump as well as the company. I recently had a problem with the power cord that was my fault, and the company overnighted me a new one at no charge. I highly recommend this product to Moms who are looking for a quality pump…"
-By katefromma on September 1, 2011
"If you plan to return to work and pump exclusively, do yourself a favor and buy a double pump. It is so worth every penny. I have used the original and (Medela) advanced Pump In Style…Bottom line: the advanced gets the milk out a little bit faster (cuts 5-10 minutes off of pumping, but I still have to pump for at least 15 minutes), and the advanced occasionally gives me an ounce or two more milk than the original. Which one you like better will depend on your let down cycle. I spoke with Medela and they confirmed that the advanced may be difficult to use for women who experience multiple letdowns or have a difficult time letting down. The advanced sucks quickly for 2 minutes to trigger letdown, then switches to slow, deep suction to extract the fatty hindmilk."
-By Snorlax on September 28, 2004
From Medelabreastfeedingus.com
"I just wanted to say how awesome your Medela Pump In Style Advanced was on my exclusively pumping journey. I tried with both of my babies to breastfeed with no luck so I turned to pumping. I pumped 8 months with my first and just ended 7 months with my 2nd. After all of that, the pump still works great! Thank you so much for having a reliable product that I could depend on through the ups and downs =) "
– Angela H., Dexter, Kansas
"The first time I used [my Pump In Style Advanced] it was so comfortable and I got six ounces! My daughter is almost five months old and I'm still getting anywhere from three to eight ounces per pumping. Thanks Medela for helping me go back to work and still provide breastmilk for my daughter!"
– Casei, Manhattan, Kansas
From the Editors at babygearlab.com:
"The Medela pump in Style Advanced was chosen as our Best Value Award winner for so many reasons. To put it simply, it's just a great pump. It is efficient, producing a large volume of milk in a good amount of time. It is portable, with the pump built right into the tote bag, you can just pick it up and head to your next destination. To top it off, it comes with some great accessories all included at a very competitive price. While some pumps may be cheaper, they just don't come with the same quality pump or parts. We did find this pump to be a little noisy, as are most electric pumps, and for some, the tubing may need to be replaced on occasion. Still, this pump remained a strong leader among our testing line-up."
http://www.babygearlab.com/Breast-Pump-Reviews/Medela-Pump-In-Style-Advanced
*Note: The information herein was compiled by our resident Moms in the Know and is not informed by medical or legal experts. This information does not directly reflect the views or opinions of Byram Healthcare.