The "NEW" Lansinoh Smartpump 2.0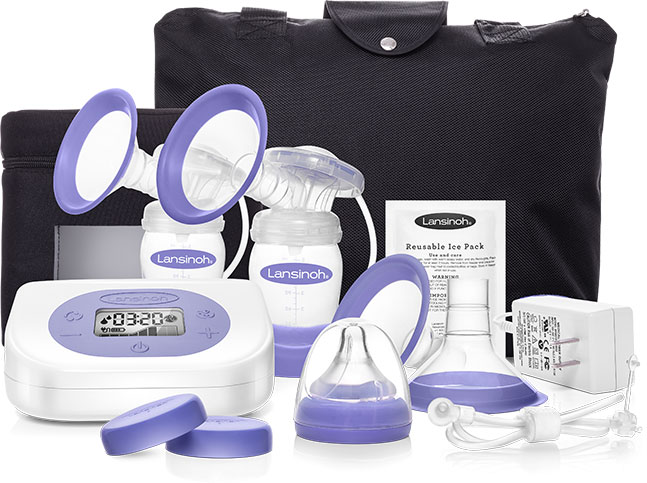 Smart Pump 2.0
Lansinoh's newest and quietest double electric breast pump, the Smartpump 2.0 is designed for mom's comfort. You can confidently and discreetly pump anywhere.
Order Yours Today at No Cost Through your Insurance Benefit.
The Smartpump 2.0 is lightweight with an ergonomic carrying handle, which means it's easy for you to take it to work or on your next big trip, or just carry around the house as you do your daily routine. And it's called the Smartpump for a reason - it seamlessly connects to the Lansinoh Baby 2.0 app via Bluetooth® to automatically track your pumping sessions. The setup guide and personalized dashboards on the Baby 2.0 app makes pumping easy to understand. With a revamped user experience, the app is designed to help you easily keep track of your feeding and pumping schedules, so you don't have to wonder if you missed your pumping session. 
Key features of Lansinoh Smartpump 2.0:
Ultra-quiet motor, as quiet as a whisper

ComfortFit® flanges are soft and flexible, hugs your curves for the ideal suction and fit

Uses Bluetooth® to automatically track your pumping sessions with the Lansinoh Baby 2.0 app

8 adjustable hospital strength suction levels for power and comfort – easily adjust to your most efficient setting

2 mode technology for let down and expression modes to maximize breastmilk expression, with automatic switching

3 pumping styles to choose from to help mimic your baby's natural feeding pattern
Remembers your last pump setting to simplify your routine, and slowly builds power back up so you don't get a sudden unexpected tug

Easy to use with backlit LCD screen, lightweight body, and carrying handle

Hygienic, closed system helps prevent milk backup into tubing for easier cleaning

Dishwasher safe parts and easy to clean

Includes AC Adapter or can be used with 6 AA batteries or pump car adapter for on the go pumping (batteries not included, and pump car adapter sold separately)